Custom Hot Rods and a Fascinating History of Flames
There are a lot of steps in repairing and restoring custom hot rods but few parts of the process offer as much fun and personalization as the final paint job. For those looking for an authentic period recreation, what is a custom hot rod without a couple flames? Scallops and flames go with hot rods like peanut butter and jelly, but have you ever wondered why? Let's take a minute to pause, rewind, and enjoy some of the earliest inspirations and examples of flaming paint jobs:
A History of Flames & Custom Hot Rods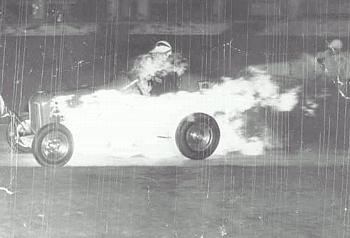 This is the picture that many agree started it all. Taken on October 20, 1938 by Carroll Photo Company, this incredibly well-timed image captures racecar driver Fred Friday as he careens through Gilmore Stadium with his car engulfed in flames following a fuel leak. Friday survived the incident and the photo quickly became a worldwide sensation. (Think "viral video" before the Internet era.) The idea of a race car driver flying so fast that it elicited flames captured the imagination of every hot rod and muscle car owner who loved going fast.
World War Two and Increased Personalization
But while this photo might have been the first big inspiration linking flames and hot rods, it wasn't the only. A year after Friday's brush with fiery death, World War II started and with it came the growing trend of "nose art". Nose art is the decorative painting on the front fuselage of an aircraft. This was initially done to identify friendly planes and later evolved to express individuality. While nose art existed in WWI, it wasn't until WWII that the trend took off and was more photographed and dispersed throughout the general public. When those photos and the pilots, ground crew, and civilian painters who took part in the trend came back following the war, so too did the idea of personalizing hot rods and muscle cars.
Thus, it was in the 1950s when the custom hot rods craze really began in earnest as veterans and those coming of age in this post-war, 'fabulous 50s' decade saw the building and painting of hot rods and custom cars as another type of self-expression. Furthermore, racing them once done offered a bit of thill like a battle but without the repercussions. The booming economy also meant hot rodders had better access to custom parts and professionals who could give their vehicle that perfect look.
Hot Rod Flame Decals Today
Naturally, trends aren't linear and there were certainly those who painted flames on hot rods before the '50s -- such as Kelly Petillo's winning race car #5 at the Indianapolis Motor Speedway in 1935. To learn more about other outliers and trend starters, as well as some outstanding examples of flames on today's restored custom hot rods, check out Tim Phelps's book Up in Flames: The Art of Flame Painting.
Need a Paint Job? Contact CHRA
If you are looking for some stellar personalized paint and styling on your custom hot rod, then CHRA is your auto shop. Contact us today!